Launched in the fall of 2015, the Expanding Prosperity Impact Collaborative (EPIC) is an initiative of the Aspen Institute Financial Security Program.
Unique to the field of consumer finance, EPIC is a neutral forum that seeks to elevate the understanding of emerging issues that threaten the financial security of households but are not yet the subject of widespread, mainstream attention. EPIC connects and mobilizes a large network of individuals and organizations to both investigate the economic forces and financial challenges that severely impact American families and develop cross-sector, innovative solutions.
EPIC achieves this by:
Elevating new research and ideas and identifying overlooked sources for new insights
Connecting new audiences with unconventional thinkers
Expanding reach through innovative digital surveys
Delivering fresh frameworks for government, industry, and practitioners to expand prosperity
The ultimate goal of EPIC is to generate deeply informed analyses that helps decision-makers (1) understand and prioritize critical financial security issues and (2) forge consensus and broad support to implement solutions that will improve the financial lives of millions of people.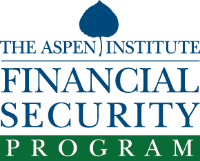 The Aspen Institute is an educational and policy studies organization based in Washington, DC. Its mission is to foster leadership based on enduring values and provide a nonpartisan venue for dealing with critical issues.For more information, visit: www.aspeninstitute.org
Financial Security Program connects the world's best minds to find breakthrough solutions for America's family financial security crisis. Millions of workers, families and retirees endure chronic financial insecurity due to ongoing fallout from the Great Recession, foreclosure crisis and disruptive changes to our economy. FSP advances a new generation of policies, products and services that enable more Americans to meet basic financial needs, and withstand financial shocks, while saving for long-term goals like college, home ownership and retirement. For more information, visit: www.aspeninstitute.org/policy-work/financial-security
Your input and participation helps ensure that we have a level of dialogue and knowledge synthesis that is thorough and goes beyond usual sound bites.
We're always looking to expand our network. Join our mailing list to stay in the loop with everything we're working on.