Lansing, Michigan
August 31st, 2017
Income volatility and financial insecurity can take a devastating toll on our families and communities.
On Thursday, August 31st, Mayor Virg Bernero of the City of Lansing hosted a private roundtable to discuss the practical, innovative, private and public solutions to household income volatility in the city and surrounding region.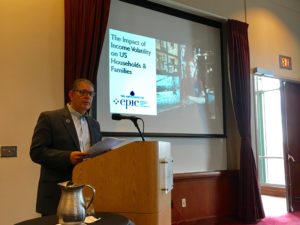 Caroline Ratcliffe, senior fellow and codirector of the Opportunity and Ownership initiative at the Urban Institute, presented along with Lansing's Office of Financial Empowerment and EPIC, to share critical insights about the problem.
Community leaders from Lansing's public and private sectors joined the conversation, which largely focused on the development and implementation of potential solutions. The group is currently working on refining their next steps. A list of commitments and action items that emerged from this event will be published soon.
© The Aspen Institute 2017 – All Rights Reserved