WEBCAST 
By now, most people know the headline: "Americans hold $1.5 trillion in outstanding federal student loan debt, with nearly one in five adults carrying a share of this burden."
So what? Well, this record-level student loan debt prevents households from saving in the short-term, reducing the ability to reach broader financial security and upward economic mobility. Worse yet, some traditionally under-served populations carry disproportionately large debt burdens and are more likely to default.
Join education technology company Chegg and the Aspen Institute Financial Security Program in a live webcast as we share new data to understand borrower's experiences, explore cross-sector solutions that could better support existing borrowers, and, importantly, consider critical reforms to improve the system moving forward. Join the conversation online with #StudentLoanImpact.
PANELISTS
Gary Brahm | Chancellor and CEO, Brandman University, @GaryBrahm
Adam Ordaz | Young Advocate Program, Young Invincibles, @Atom_Bomb21
Dan Rosensweig | President & CEO, Chegg, @DanRosensweig
Marlon Sullivan | Divisional VP of Human Resources, Abbott, @AbbottNews
Ajita Talwalker Menon | Former Special Assistant to the President for Higher Education Policy, @talwalker
Joanna Smith-Ramani | Managing Director, The Aspen Institute Financial Security Program (moderator)
PANELS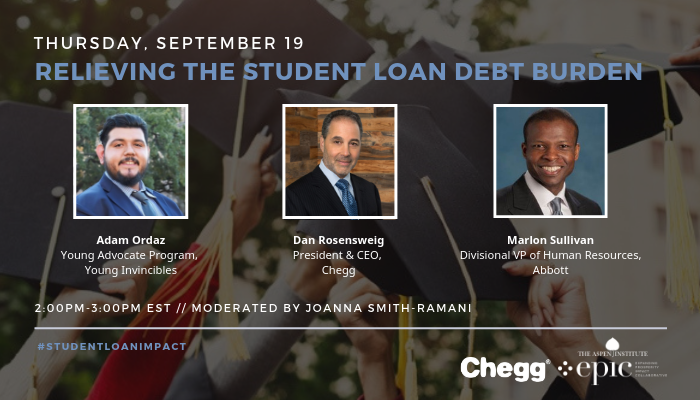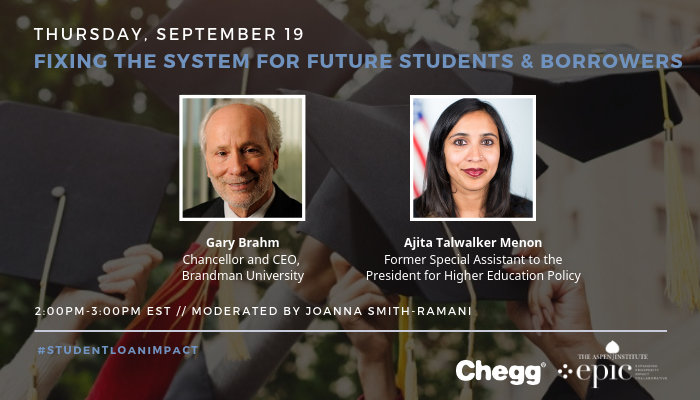 Date:
Thursday, September, 2019
Location:
Live Webcast
Host:
The Aspen Institute, Expanding Prosperity Impact Collaborative
Chegg
This is not an in-person event, please tune in live or after the conclusion of the webcast. Join the conversation on social with #StudentDebtImpact
Your input and participation helps ensure that we have a level of dialogue and knowledge synthesis that is thorough and goes beyond usual sound bites.
We're always looking to expand our network. Join our mailing list to stay in the loop with everything we're working on.
EPIC is an initiative of the Aspen Institute's Financial Security Program.
Financial Security Program  |   The Aspen Institute  |  2300 N Street, NW Suite 700 Washington, DC 20037 [cn-social-icon]
© The Aspen Institute 2017—All Rights Reserved