● Vice President, Housing Finance Policy Center, The Urban Institute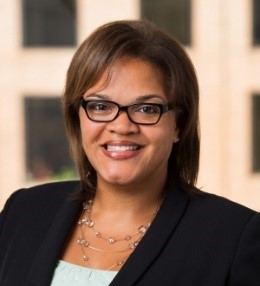 Alanna McCargo is vice president of the Housing Finance Policy Center at the Urban Institute, where she focuses on center management, development, and strategy, including the cultivation of innovative partnerships within Urban and with external stakeholders.
McCargo has over 20 years of experience in housing finance, policy, and financial services. She has worked in the private, public, and nonprofit sectors on programs, policies, and research to improve access to housing and mortgage finance. Before joining Urban, McCargo was head of CoreLogic Government Solutions, working with federal and state government agencies, regulators, government-sponsored enterprises, think tanks, and universities to deliver custom data, analytics, and technology solutions to support housing and consumer policy research. Previously, McCargo held leadership roles with Chase and Fannie Mae, managing portfolios, policy efforts, and mortgage servicing transformation and alignment. From 2008 to 2011, she was an agent of the US Treasury Department on housing programs, such as Making Home Affordable and Hardest Hit Funds, working with industry stakeholders on the recovery.
McCargo serves on nonprofit boards and committees, focusing on her passion for helping underserved populations with financial literacy, economic stability, and housing security. She works with Doorways for Women and Families, Women in Housing and Finance, and DC Habitat for Humanity.
McCargo has a BA in communications from the University of Houston, an MBA from the University of Maryland, and an executive certificate in nonprofit management from Georgetown University's McCourt School of Public Policy.
Your input and participation helps ensure that we have a level of dialogue and knowledge synthesis that is thorough and goes beyond usual sound bites.
We're always looking to expand our network. Join our mailing list to stay in the loop with everything we're working on.
EPIC is an initiative of the Aspen Institute's Financial Security Program.
Financial Security Program  |   The Aspen Institute  |  2300 N Street, NW Suite 700 Washington, DC 20037 [cn-social-icon]
© The Aspen Institute 2017—All Rights Reserved