A Dangerous Intersection? The Compounding Threats of Income Volatility and Retirement Insecurity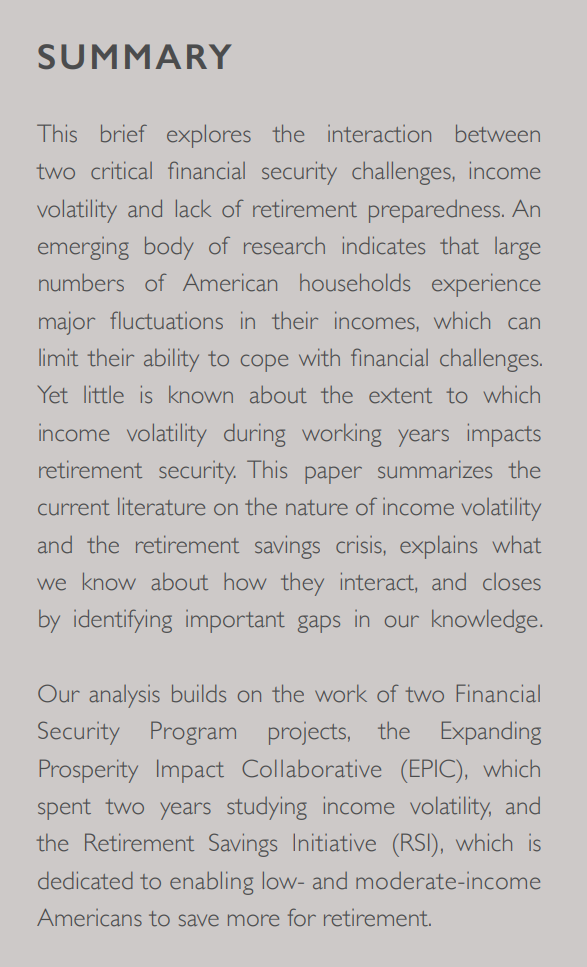 American families are facing two distinct but interrelated financial challenges: income volatility and lack of retirement preparedness. In a recent Federal Reserve survey, three in 10 adults in the United States (US) reported experiencing some level of income volatility from month to month. Other research suggests that income volatility may be even more widespread. Income volatility, along with other forms of cash flow instability such as expense volatility, makes it difficult for families to budget, save, and plan for the future. When confronted with unpredictable cashflow, households without emergency savings are often forced to  make high-risk financial decisions. High-risk options can include cashing out retirement accounts, borrowing from retirement accounts, over-drafting bank accounts, turning to high-cost credit such as payday or car title loans, and delaying bill payments. While these options can help households cope with their immediate, urgent needs, they often do so in ways that can derail or diminish longer-term financial security.
While many important questions about the intersection between the two challenges remain unanswered, emerging research suggests that income volatility disrupts the ability to save throughout one's working years, negatively impacting long-term retirement security. Even before taking volatility into account, the statistics on retirement preparedness are troubling. Half of the private-sector workforce does not have access to a retirement plan through their employer, and even those who are saving are not saving enough to substantially supplement Social Security.
Your input and participation helps ensure that we have a level of dialogue and knowledge synthesis that is thorough and goes beyond usual sound bites.
We're always looking to expand our network. Join our mailing list to stay in the loop with everything we're working on.
EPIC is an initiative of the Aspen Institute's Financial Security Program.
Financial Security Program  |   The Aspen Institute  |  2300 N Street, NW Suite 700 Washington, DC 20037 [cn-social-icon]
© The Aspen Institute 2017—All Rights Reserved